Depending on what climate you live in, the window for wearing flats can be a short one.  In the summertime, it can be too hot and flats might create some sweaty, slippery feet.  In the snow and ice, forget about it.  Rain?  Not so much.  A temperate fall day is the best day to don a great pair of flats.  Here are the season's best and most beautiful!
The Tory Burch Minnie is such an iconic, classic flat.  If I could, I would stock my closet of one Minnie in every color and pattern.   They fold down, as well, so they can easily fit into your tote bag or suitcase.  Here's one of the latest Minnies, now in gorgeous diamond stitch leather.
These Chloe Lauren Flats offer a few nuances that separate them from any ole run-of-the-mill flat out there. Suede, scalloped, and in several gorgeous colors – these are so pretty and would look great with denim.
If you're looking for a little lift in your flat, look no further than the American Rag Ellie Flats. They're padded and cushioned inside as well, making them great for travel! 
Madewell somehow always gets it just right.  The Reid Ballet Flat in leopard calf-hair perfectly toes the "animal print" line – they are classy and subtle and not too much!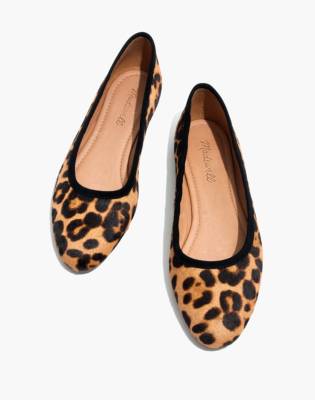 Okay, let's just go back for one moment to the queen of flats herself, Tory Burch.  Another iconic line of TB's is the Chelsea – now with a low blocked heel and lots of great fall colors.  Swoon!!